Teach Your Kids Chinese: The Ultimate Resource Guide!  Online and offline Chinese resources for kids and parents who are non-native speakers.  Let's start!
This post has affiliate links.  Thank you for your support!
When I first started teaching Mandarin Chinese almost all of my students were first generation Chinese Americans.  It has changed over the years.  It is encouraging to see that my Chinese immersion programs for babies and tots and my school programs for elementary school students are comprised of 99% non-native speakers and families in the last a few of years.  You will see similar percentage in the foreign language schools designed for children.  According to a report by the U.S. Department of Education (Mandarin) Chinese was the most popular dual-language education program implemented by individual states after Spanish.  With recent research on bilingualism, the benefits of being bilingual, and the language learning ability of babies parents are ready to head on the bilingual journey before their little ones hit the school age.
I have put together this Teach Your Kids Chinese resource guide with the non-native speaking parents in mind.
You can start with a program in a bilingual approach so you understand what you are teaching and saying to your child.  You can also start with an novice level immersion program.  You can pick and choose the best program(s) for your child.  You always have the flexibility of moving forward faster or stepping back with the program you choose.  You are going on an adventure with your child to explore a new language and a new culture.   How exciting!
Raising a bilingual child is a journey and you want to make sure you and your children are having a joyful time together.
Listen to Chinese songs, nursery rhymes, and stories:  Your Captive Audience 
You have a captive audience when you are in the car so this is a great place to share the Chinese learning fun in audio style.
Read children's book in Chinese:  Read, Read and Read More!
Start a Chinese language home library, basket or corner.  Create a bilingual literacy environment at home.  Let's start with Chinese-English bilingual books.  Popular English broad books that your child has read and enjoyed are a good start.
I remember the very first time I read The Very Hungry Caterpillar in Chinese to my first grade students they yelled and shouted "I know the story!!" as I pulled out the Chinese edition of the book and showed it to them.  The online resource will help you with the reading.  I love books with simple basic sentences and a lot of repetition.  These books will build confidence in our young learners who is entering the world of a new language.  All the books listed below are popular English broad books Chinese edition.
Online English-Chinese Bookstores
Chinese-English Printable and Lessons

 Theme-based learning units created by Miss Panda are in English, Chinese, and Pinyin.  They are a resource for daily target language learning.  The printable format of the units makes it easy for you to choose the pages you need.  Flash cards can be laminated and used for your home word wall to increase the visual exposure of a print-rich literacy rich Chinese language environment.  Fun worksheets and coloring pages can be used for mommy and me, daddy and me learning time and hands-on activities.  You can choose from Days of the Week or Numbers to start with.
Watch Chinese YouTube Programs and Videos of Popular Shows
Chinese Learning Apps for Kids
Inkids has a flashcard app: Chinese Flashcards (Mandarin Chinese & multilingual) by INKids (Animal set/Mandarin Chinese version), it has nice illustration and it is appealing to young children.  I especially enjoy the Chinese characters that are included on each card for visual display.  You will have to go to language setting and select "Mandarin Chinese" to hear the correct pronunciation.  English, Mandarin Chinese, and Cantonese are three audio options for this app.

You will also find  Gus on the Go  a good choice with its simple and easy learning structure.  Also available on iTunes.
Enjoy Chinese Craft Time
Hands-on projects involve and engage your children in the learning process.  Join me and have fun dying Easter Eggs and learning Colors here!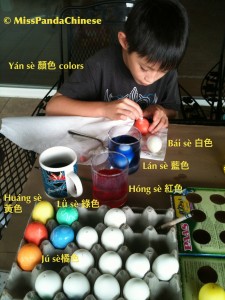 Learn Chinese Culture
Language and culture go hand in hand.  Let's visit the Asian Art Museum, take a look at Chinese cooking styles, understand the formation of Chinese writing and many more with Exploring Chinese Culture with Kids.
 Plan A Chinese Immersion Tour locally or overseas
Chinese language and culture immersion tours to China and Taiwan will be a wonderful experience.  Your trip will immerse the whole family in the host culture.  There are many short-term kids camps designed for young visitors if you are interested in a summer camp style program.

There are also StarTalk programs featuring Mandarin Chinese for children in elementary school in different states.  Check out their website to see if there is one near you.
Have These Chinese-English Reference Tools Handy
Raising a bilingual child is an adventure and you will be growing the language and culture knowledge with your child.  For the words, characters, phrases or even sentences that pop up you can use the the tools here to find the answers.
I hope this Teach Your Kids Chinese resource guide will help you start your bilingual family journey! 
Share this with a friend who needs it!  
Leave a comment and let me know what is the first resource that you want to try!!


Save
Save
Save
Save
Save
Save
Save
Save
Save
Save
Save
Save
Save
Save
Save
Save
Save
Save
Save
Save
Save
Save
Save
Save
Save
Save
Save
Save
Save
Save
Save
Save
Save
Save
Save
Save
Save
Save
Save
Save