The mobile devices have become a part of our learning in or out of our home or in the classroom.  I like the flexibility and the variety that apps provide.  Here I have picked over 20 Chinese languagelearning apps that are educational and entertaining for your bilingual child.  This is a 2017 update.  I kept the non-native speaking parents and children in mind when I made the selection.  Many of the Chinese language learning apps have language options so you can switch between English and Chinese.
Note to non-native Chinese speaking families: 
Start with the Chinese language learning apps using the bilingual approach first.  It is important to give comprehensible input to our young learners.  Our young learners need to enjoy the exposure.   Be a part of his/her learning journey!
The apps that I have included are the ones suitable for children who are learning Mandarin Chinese as a Second Language and are for kids at ages 5 and up. 
Lingu Pinguin (Mandarin Chinese) – It is an interactive English-Chinese picture dictionary with audio.
The vocabulary themes are animals, transportation, food, face & body, farm, toys, nature, clothes, and house.  There is a quiz section for review. Pronunciation: standard Mandarin Chinese.  Audio options: English and Mandarin Chinese.  There is one pronunciation of one character can be noted in this set that is "penguin" in Mandarin Chinese.  It is read as Qǐ é – Qǐ  (3) – 3rd tone and it can also be read as  Qì é. Qi(4) – 4th tone.
I like that the Chinese characters are included in each card.  It is important that you select "Mandarin Chinese" in the language setting to hear the correct
pronunciation.  Audio options: English, Mandarin Chinese, and Cantonese.
Chungaboo – Language Series (Multilingual including Mandarin Chinese/Words set) – This is a multilingual app for kids including Mandarin Chinese.
It is a beautiful and entertaining set.  Touch the pictures and see what happens.  When you select Chinese in language setting you will see Pinyin (pronunciation guide) with tone marks on each card.  This set has 20 interactive cards.  Audio: Mandarin Chinese, English, French, German, Italian, or Spanish.
Fun Chinese: Mandarin Chinese Language Learning Games for kids – This is a game-based Chinese learning app with a 15 different languages combination.  That means the game instruction is in your selected language.  If you set "English" as your preferred language you will see "English" instruction in the game.  The teaching material is in Chinese.   This can be helpful for families who speak languages other than Chinese.  Theme words and phrases are the main content for this app with a few simple sentences from the free version.
Go beyond words and learn some basic sentences
Piggy Picnic  – This app uses immersion approach.
You can select English in setting to understand the questions when needed.  Teaching Chinese as a second language approach.
Rick & Jacky  – This is an entertaining and educational app.
This app introduces words and basic sentence patterns.  Teaching Chinese as a second language approach.
Feed Me Chinese: This is a multilingual app and the Mandarin Chinese version is educational and entertaining.
It is designed in immersion style and it is fun and challenging at each level for children with some Chinese background.
 
Adding listening and reading stories to your bilingual child's daily routine

RyeStudio has a very good collection of Chinese classic stories read in Mandarin Chinese with Chinese characters (in traditional or simplified characters or in Pinyin).  You can start from the free stories first.

Tinman Arts is another app that has a good collection of Chinese classic and contemporary stories.  English stories translated into Chinese and read in Chinese are also available.  My young students and older ones all enjoy their interactive design of the stories.  Try a free story and see the reaction of your young learner.
Writing Chinese Characters: Writing Chinese Characters is fun
Skritter – Learn to Write Chinese by Skritter.   This is a fantastic app for learning Chinese characters for children or adults. It is a well-designed app and it has features to track the progress, add new word lists, keep track how much you use it daily and much more. I am very impressed with the app with its overall structure, writing design, word lists, audio, and beyond. I started with the free version and then paid for subscription. I want to see a better subscription fee with the full version. Another recommendation is to have multiple users under one account with a family subscription rate.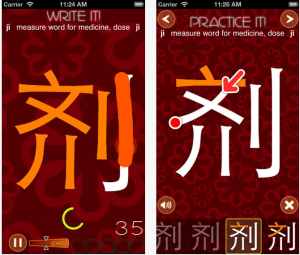 Chinese Writer by trainchinese: This is excellent app for writing practice and sight words exercise.
You can select the Traditional Chinese or Simplified Chinese version on the app. FREE version with in-app purchase option.  This app is good for children who are Grade 3 and above.
Just for fun:  Are you Hungry?  Watch out! 
This one can be a family game with all the family members participating

Chinese Fridge Dim Sum: Sight words for Dim Sum dishes and it is entertaining. There are 5 dish names to learn. Standard Mandarin Chinese pronunciation. Chinese characters options: Chinese traditional, Chinese simplified, and Pinyin.  Be ready to order your Dim Sum dish in Chinese next time.
New and Noteworthy
Gus On The Go (Mandarin Chinese): Gus On The Go has a collection of multilingual apps including Mandarin Chinese.  It is well-designed and with high quality graphics and audio recording.  You will find one app titled "Taiwan Chinese" for traditional Chinese writing and one app titled "Mandarin Chinese" for simplified Chinese writing.  Look out for their upcoming new release of Stories by Gus On the Go. 
The Great Dumpling Adventure

– Miao Miao:  Miao Miao has a collection of Chinese learning apps.  They are designed for preschoolers and young learners.  This is an interactive and entertaining app.  Children will have a cultural experience with Miao Miao! 
2KidsChinese: This is a curriculum style app led with a story in each lesson.  It focuses on basic skill building in a spiral learning approach.  This app is in immersion style and it will work for children with some basic knowledge of reading and writing in Chinese.  Writing system: simplified Chinese characters.     
Art of Chinese Characters: Art of Chinese Characters are great for older children with some Chinese language knowledge.  This is an award winning well-designed app for Chinese character learning and writing with Chinese culture information included.  The program features 15 Chinese characters visualization images.  There are over 80 Chinese characters and 160 commonly used phrases introduced in this app.  All Chinese characters included in this edition are in the pictogram group.  Children can visualize each character from the images presented in the app.  Writing systems: Traditional & Simplified Chinese.  If you and your child enjoy this one you can advance to the 2nd level: Art of Chinese Characters 2.  In this 2nd app of the series, it features 30 wonderful Chinese character recognition images with 150 Chinese characters and 200 commonly used phrases.

ChineseSkill: This is a game based learning app.  Even though it is designed for adult learners I have found older children enjoy this program.  Learning is playful and this game-based style helps the learning process.
Tiny Cards: This is a multilingual and multi-subjects app.  For Chinese language you will find a collection of learning cards from Chineasy with well-designed visual graphics and clear audio.  Chineasy presents all Chinese characters in its collection with easy to understand and appealing graphics for both children and adults.     
The best way to use the apps with your bilingual child

1. Play with each app that you are interested in as a parent first.
2. Play the educational app with your child together.
3. Select 3 to 5 words that you have learned, write them down and use them in the next 24 hours with your child.  Use the new words, phrases and sentences in the conversation you have with your bilingual child.  Repeat with your young learner every day.  Add 3 to 5 new words, phrases, or sentence in the following week.  Repeat the routine.
4. Break down each unit into short sessions according to your needs.  It should not be overwhelming for you or your little one.  Every word is a building block.  Take your time.
5. Put down the device, go out and use the words, phrases, and sentences that you have learned in real life!  Have fun!
Multimedia Learning and Usage Resource:
 *This is an independent review and in order to maintain its independence and impartiality,
Miss Panda Chinese buys and tests the apps it evaluates.*
Enjoy this post?   Share with a friend who needs this!  
Post updated in 2017.  

Save
Save
Save
Save
Save