Miss Panda Chinese
Summer Chinese Reading Program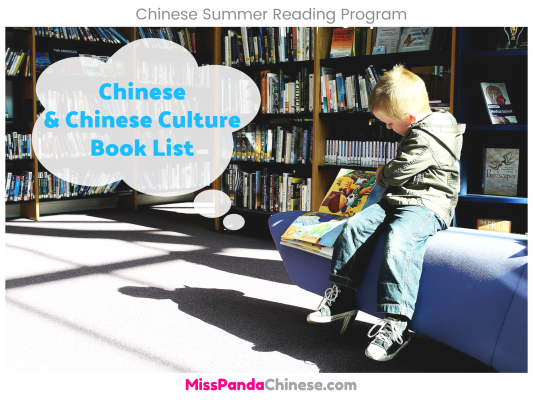 Welcome to the Summer Chinese Reading Program Book List. There are three sections in this list.
Books in the first section are either in Chinese or bilingual in Chinese and English.  Some of the books have audio support on Miss Panda's Reading Playground.
Books in the second sections are in English or bilingual in Chinese and English.  They are cultural books that appeal to young readers.
Books in the third section are also in English or bilingual in Chinese and English.  They touch on specific Chinese culture, history, historian figure, folktale, and fiction stories of growing up as an Chinese American.  This is a good list for tweens and early teens.
All books in this list are wonderful for "Read-with-Me" if you have an independent reader and you want to make this summer reading experience special. Every cultural book is a chat generator. You and your child can share and exchange your take on the daily reading no matter it is a couple of pages or a chapter.
Read-to-Me (ages 0+): Chinese books.  Seven out of the twelve books are Chinese edition of popular board books in English.  They have limited vocabulary and pattern repetition, they appeal to young Chinese language learners.
Independent Readers (ages 6+): Books in English or bilingual in English and Chinese.  Learning about the culture will encourage children to enhance their knowledge and connection with Chinese language.
Tween & Teen Readers (ages 9+) : Tween and teen readers will enjoy cultural books in the 3rd selection.  It is a combined experience of Chinese culture and language.  Share your book recommendations in the comment below!  Happy summer reading!
Coming soont: Summer Reading Program Book Giveaway!
This post contains affiliate links.  Thank you for your support!
Books with Audio Support (Books in Chinese. For children ages 0+)
Chinese Culture Books (English and/or English-Chinese Bilingual: ages 5+)
Chinese Culture Books (English or English-Chinese Bilingual for ages 7+)