Chinese Play and Learn features teaching thankfulness with Chinese Thank You cards and Thank You poster!

Being thankful is an every practice.  Teaching children to say "Thank You" is important.  How to help kids to have the sense of gratitude in them is the core and the goal.
In Chinese culture, gratitude starts at being respectful to parents in a family.  "A youth, when at home, should be filial, and, being outside of home, be respectful to his elders.".  The original text is "Dìzǐ rù zé xiào chū zé dì  弟子入則孝 出則弟 | 弟子入则孝 出则弟" from Confucian Analects, Hsio R.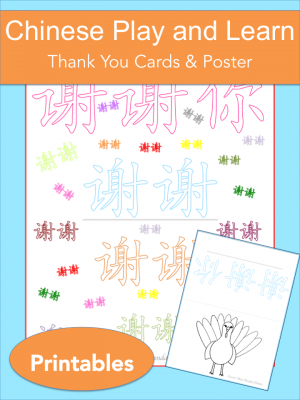 As I am teaching children Chinese language I always want to find opportunities to connect Chinese language with Chinese culture.  I also want kids to compare their family and community culture with the Chinese culture.  When we do that students see that many cultures have similar virtue. 
Teaching Tips: 
This set of Chinese thank you cards and a thank you poster are for every day use. 
Post the thank you poster on a poster board on the wall. 

Have strips of colored papers and crayons or colored pencils nearby. 

Whenever children want to say thank you for someone or something they can write it down on the paper and add it to this Thank You poster board. 

They can draw pictures or write in Chinese or in English. 

This board will be a growing source of Chinese vocabulary and expressions to add to the teaching plan.
Ideas to teach gratitude to children:
Being an example for the kids.
Being respectful.
Being polite.
Saying thank you sincerely.
Writing thank you cards.
Participating in service projects at home, at school and in the community.
Count Blessings every day.
Catching the teachable moments.
Sharing real life stories and experiences.
Love to read more interactive and engaging Chinese teaching resources from Miss Panda? Join our community and sign Up for Email Updates:

Decorating Chinese thank you cards and thank you poster are fun crafts.  This project can help children to be mindful about the people who love them, care for them and more.  It can also lead them to think about family, neighborhood, environment and the community in a small scale.
There are developmental benefits of arts for kids.  Working on arts and crafts is a part of arts.  Talking about making a thank you card and whom to give thank you to involves language learning and decision making.  It highlights visual awareness, creativity, and cultural appreciation.
Download the Chinese fall coloring pages here:
Explore More in Chinese Fall & Thanksgiving Series