Chinese for kids Chinese Play and Learn series has a new set of Chinese fall coloring pages for young learners!  Children see  leaves change colors.  They visit pumpkin patch and pick apples.  They bake at home and many celebrate family time for Thanksgiving this time of the year.  Holiday and holiday break are always a good time to work on projects that lead to learn and expand Chinese vocabulary and expressions.

Young learners will enjoy this set of Chinese fall coloring pages.  Kids can use crayons, markers, colored pencils and fun mix media such as glitter glue, watercolor paints to work on this project.  Each coloring page has one short Chinese sentence in Chinese characters and pinyin.  This gives young learners opportunity to associate Chinese text with the spoken language.  Read the sentence on each page to children.
Teaching Tip: What is "turkey" in Chinese?  Turkey is "huǒ jī" and it literally means "fire chicken."  "huǒ"火 is fire.  "jī" 雞|鸡 is chicken.  My students always find this is funny.   Also, here is a Chinese children's song  you can play for background music for this project.  You will also enjoy No Prep Fall Literacy Reading & Numbers unit with over 80-page engaging fun.

Coloring pages are simple.  Working on coloring pages has many benefits for young children.  The advantages include color recognition, color awareness, hand to eye coordination, motor skills, spacial and structure awareness, and calming.  Kids can express themselves with coloring.  In addition, coloring stimulates creativity!
Download the Chinese fall coloring pages here:
Love to read more interactive and engaging Chinese teaching resources from Miss Panda? Join our community and sign Up for Email Updates: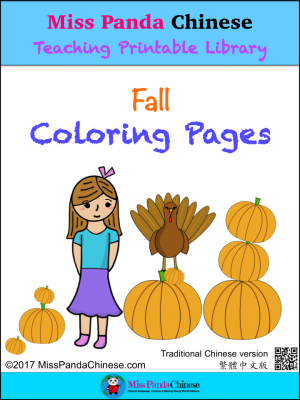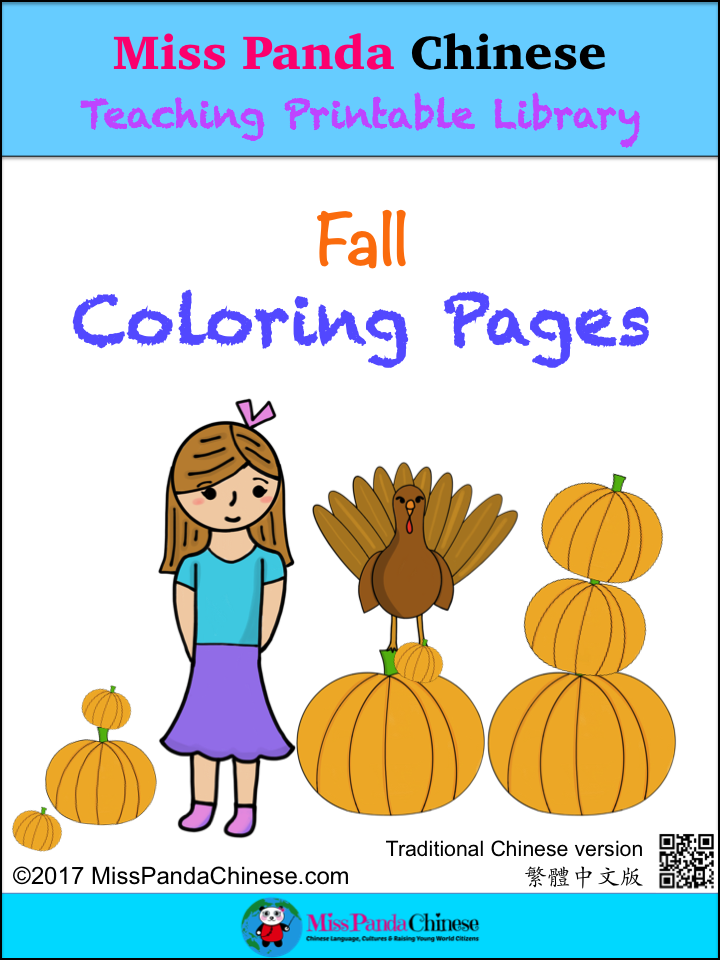 Explore More in Chinese Fall & Thanksgiving Series