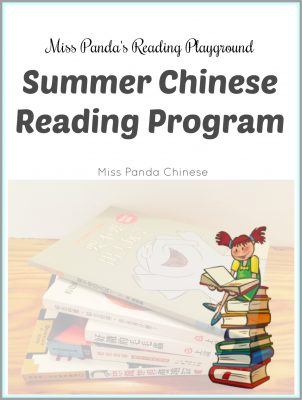 We are so excited to kick off our 2017 Summer Chinese Reading Program!
The mission of this challenge is to keep our bilingual children reading in Chinese, having fun in Chinese, and learning more about Chinese language, Chinese culture and the world during the summer.
We have picked awesome books for your to start with.  We are looking forward to having your and your child's book recommendations.  We welcome teacher's book picks so we can compile more quality Chinese language and culture books in our growing book list.
For our young enthusiastic readers, we want to hear form you as well.  Tell us what book you enjoy and why.  Tell us what book (Chinese edition) you want Miss Panda to read for you and to add to the Reading Playground.
Reading opens the door of the world for children.  Stories help children enchant in learning a new language.  Join us and win awesome prizes!
Click here to sing up!

"The more that you read, the more things you will know.

The more that you learn, the more places you'll go."

– Dr. Seuss, I Can Read with My Eyes Shut



"Within books one can find a mansion of gold. 

Within books one can find treasure."
Shū zhōng zì yǒu huáng jīn wū shū zhōng zì yǒu yán rú yù
– Excerpt from "The Poem to Encourage Learning" by Emperor Sòng Zhēn Zōng, Third Emperor of the Song Dynasty, China (968-1022 A.D.)
I want to give my appreciation to
Spanish Playground and Mommy Moestra for their inspiration with their wonderful Spanish learning resources!
Save
Save
Save
Save
Save
Save
Save
Save
Save
Save
Save
Save
Save
Save