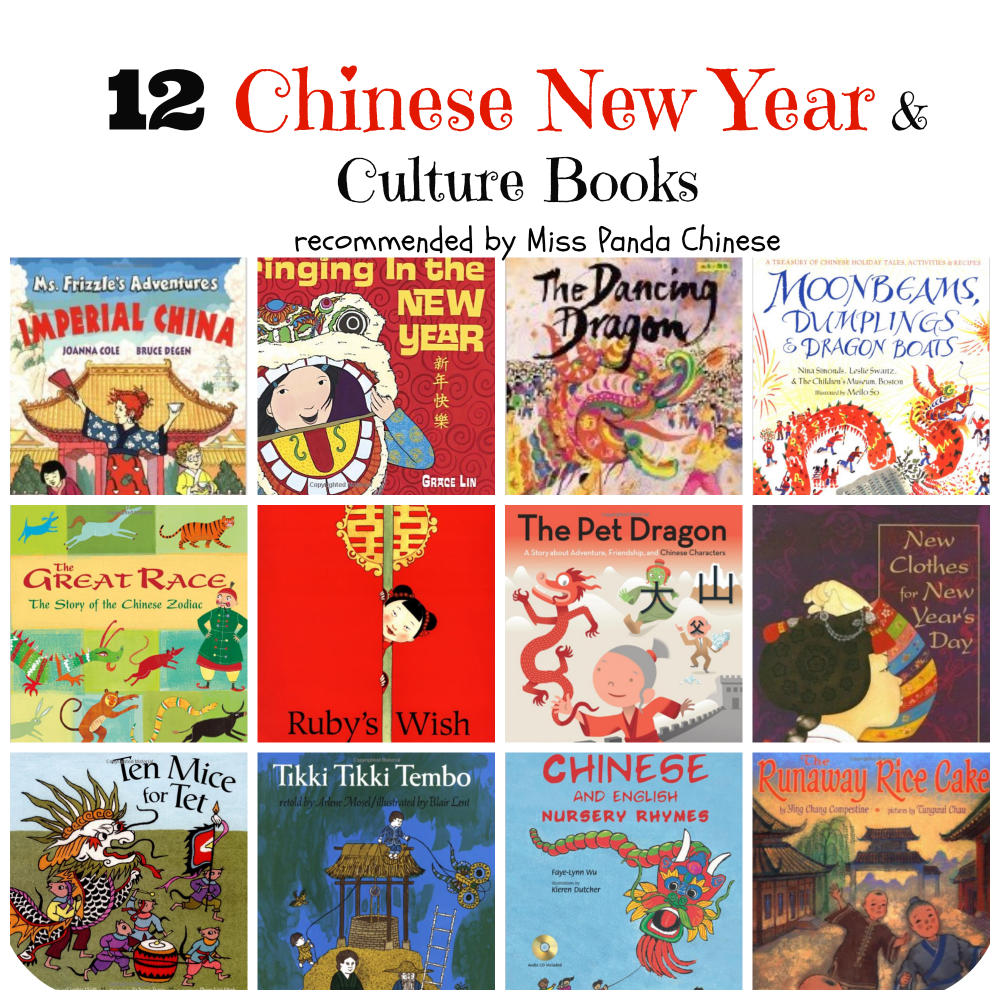 Chinese New Year is based on the lunar calendar and in Chinese it is called the Lunar New Year 農曆年 or Spring Festival 春節.  This year Chinese New Year begins on January 28th and we are celebrating the year of the Rooster!  I am planning the Chinese New Year cultural presentations for children at the library and schools.  The librarian has asked me for a book list about Chinese New Year and culture.  I think you might enjoy them as well so I am sharing the list with you here!
Moonbeams, Dumplings & Dragon Boats: A Treasury of Chinese Holiday Tales, Activities & Recipes by Nina Simonds takes you to experience Chinese holidays – Chinese New Year, Lantern Festival, Qing Ming, The Dragon Boat Festival, and Mid-Autumn Moon Festival through traditional stories, crafts, activities and recipes.  With this wonderful collection you can discover the splendid festival celebrations with your child.
The Dancing Dragon by
Marcia K. Vaughan and Stanley Wong Hoo Foon is
an accordion style book with the magnificent dragon showing when you open up the pages.  This is one of the stories I read to young children.  The colorful drawings and rhyming words are fun.  We go through the excitement and festivities of the Chinese New Year as we turn each page.

Bringing in the New Year by Grace Lin takes you along to experience the preparations for the Lunar New Year – cleaning up the house, hanging the lucky spring couplets, making dumplings, and more.  There is a note from the author on Lunar New Year traditions and there are the picture and word pages for the kids to learn some of the commonly-known Lunar New Year items.

Ms. Frizzle's Adventures: Imperial China by Joanna Cole is a wonderful book to introduce Chinese New Year and Chinese culture to children.  My kids and I are Magic School Bus fans and we always enjoy the adventures with Ms. Frizzle in the books.  This adventure starts at a Chinese New Year's festival in Chinatown and walks back time to experience the ancient China.  This is a book filled with information and culture facts that you are going to enjoy with your child.  This is a wonderful resource book for the family library.
New Clothes for New Year's Day by Hyun-Joo Bae leads us to see the New Year through the eyes of a young Korean girl.  The illustration in this picture book is stunning.  My daughter and I enjoy learning about how to put on a Korean-style New Year's Day outfit.  The information pages at the end of the book tell us about the meaning of the traditional costume and the role of New Year's Day in Korean culture.
The Pet Dragon: A Story about Adventure, Friendship, and Chinese Characters by Christoph Niemann is an entertaining picture book following the little girl, Lin, and her special gift – a baby dragon!  One or more Chinese characters are introduced on each page with pictures.  My children enjoy the story and they also love to "draw" the Chinese characters from the book with their Chinese brushes.
Ruby's Wish by Shirin Yim tells an inspiring family story of her grandmother in old China.  My daughter and I read this book together and we talked about the conflict between Chinese tradition and young Ruby's longing to attend school.  We enjoy the story and the illustration of this book very much.
Great Race by Dawn Casey is a tale about the 12 Chinese animal birth signs.  My young students always love to find out the Chinese animal birth signs for their family members after reading this fun book.

The Runaway Rice Cake by Ying Chang Compestine tells a fun story for the Chinese New Year with a Nián Gao – sticky rice cake recipe.  It delivers the message of sharing, being generous, and being compassionate.  It is like a Chinese version of the Gingerbread Man story.  My kids also think this is similar to the story of Hawaii's The Musubi Man.
Chinese and English Nursery Rhymes: Share and Sing in Two Languages by Faye-Lynn Wu has a collection of rhymes and songs in Chinese and English.  Singing is a joyful way to learn a language and experience a culture.  You can read the book and listen to the CD included for a Chinese New Year filled with traditional children's songs.
Tikki Tikki Tembo by Arlene Morsel is the winner of the 1968 Boston Globe – Horn Book Award for Picture Books.  It is a fun book with an interesting story.  It is a re-creation of an ancient Chinese folktale.  Most Chinese people's names contain two to three Chinese characters.  One character is the family name.  One or two characters are the first name.  However, long names with over 10 Chinese characters can be found in the Shinjang province in China.
Ten Mice for Tet! by Pegi Deitz Shea is a counting book that introduces children to the Vietnamese traditions of the Lunar New Year.  When you read this book check out the
pictures in this book closely.  They are all embroidered!  I also enjoy the notes at the end that
explain Vietnamese traditions.  
More Books on Chinese New Year and Culture…

The Great Wall of Lucy Wu by
Wendy Wan Long Shang

: For ages 8 and up. Here is a humorous and heartwarming story about split cultural identities.
The Nian Monster by Andrea Wang: The Nian monster has returned on the Chinese New Year's day.  The old tricks to keep him away don't work on Nian anymore!  What idea will Xingling come up with?
Grandma panda's storybook by Mingmei Yip: Grandma Panda is such a great teacher.  She is also a fun storyteller and a fantastic cook!  Read this with you child and go on an adventure to explore the Chinese culture.  Watch the interview I had with the author and watch her surprise for Miss Panda's readers!
The Panda and their chopsticks by Demi: Who is eating bamboo shoots with chopsticks?  Pandas?  Really?  They are the playful panda and they are learning to share and work together with friends!  Award-winning author, Demi presents her beautifully illustrated book with ten classic animal stories, each containing important moral lessons for little hearts and minds to absorb.
Goldy luck and Three Pandas by Natasha Yim:  What happens in this Chinese American retelling of "Goldilocks and the Three Bears?"  Who eats up the littlest panda's rice porridge, breaks his rocking chair, and rumples all the blankets on his futon?  Find out what happens at the end.
Are you looking for more books to add to your home library?  Here is another list for you!  How about books in Chinese for young readers?  Here is the book list to check out!
If you are looking for more Chinese culture books or a gift for young Chinese language learners you can check out my  Chinese New Year Gift Guide!


Post update: 2017
©2017 Miss Panda Chinese All rights reserved.
This post contains affiliate links.  If you click through and make a purchase,
Miss Panda Chinese receives a small commission to support this website.
Save
Save
Save
Save
Save
Save
Save
Save
Save