In this Chinese for Kids series I want to share with you the Chinese Halloween Bingo printable set from our Teaching Printable Library.  I also have a Teaching Unit: Chinese Halloween with flashcards, activity pages, and a short story.  When there is a holiday or festival it is a good idea to work the seasonl theme into the class.  So you will see me teach in Halloween style in October.  Take a look how My students and I count like a witch.
Add seasonal fun to your daily Chines routine.  Count like a pumpkin, a cat, a little ghost…!  Kids enjoy novelty and it keeps their attention.  Fall is such a cozy season.  We see pumpkins big and small in display in the stores.   This is a good time to enjoy seasonal topic and work on seasonal vocabulary.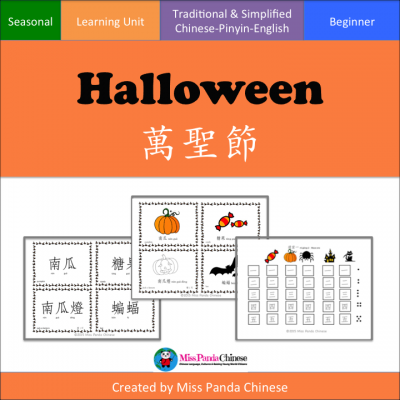 Teach Chinese unit: Halloween
Have you played Halloween Bingo in Chinese? Here is a Chinese Bingo printable set from our Free Chinese Teaching Printable Library.  Make sure you also check out our 2017 update for Halloween printable set that includes coloring pages, word search, and this original Bingo game.  In this Chinese Halloween Bingo game pages I've left rooms for children to draw pictures in the space.  My students really enjoy this game.  The candy corn I have makes the BINGO game sweet and exciting.
You can print the sheets two-sided to have the words in Chinese and pinyin in the front and the English translation on the back. You can also print the sheets separately, cut out the words and play a matching game and a memory game.  Go outside and look for the items on the list!  After practicing the words you can apply the words to the sentence pattern:
Wǒ kaǹ daò ("I see") _________________. = 我看到 ________.
Miss Panda Chinese Free Teaching Printable Library:
Halloween Bingo (Traditional Chinese – Pinyin- English)
Halloween Play and Learn 
(available in traditional Chinese version and simplified version)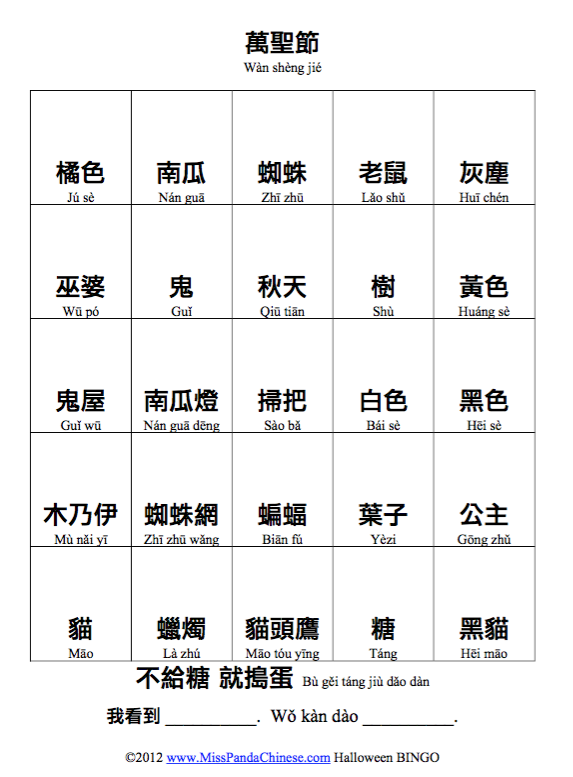 You may want to check out Teach Chinese: Halloween, a 70-page "Chinese Halloween" Flash Cards, Games, and Reading learning unit (downloadable PDF) for school, classroom and home use.  Chinese characters (both traditional and simplified versions), pinyin, and English translation are included in this unit.  As you progress with your child(ren) the Chinese characters only version is also available. You can follow the link and preview the Halloween unit on TpT or read more about this theme learning unit here.  You can purchase this unit at TpT or at Miss Panda Store.
(After payment, click on the file name in the Purchase Confirmation page to download.)
Happy Halloween! Wàn Shèng Jié Kuài Lè 萬聖節快樂
Have a fun and safe Halloween!
Love to read more interactive and engaging Chinese teaching resources from Miss Panda? Sign Up for Email Updates:

Save
Save
Save
Save
Save