Thank you for your support to Miss Panda Chinese!  I have teamed up with a group of fantastic teachers to give away $100 TeachersPayTeachers gift card to one lucky teacher winner!  Share this Thank You gift card giveaway event with your teacher friends and teachers at your children's school on Facebook and/or Instagram!
Exploring quality teaching resources on Teachers Pay Teachers.  Sharing with your teacher friends about this gift card giveaway!  It is OPEN now till December 1 (Friday).   Enter to WIN a $100 gift card from Teachers Pay Teachers.  The prize will be delivered electronically.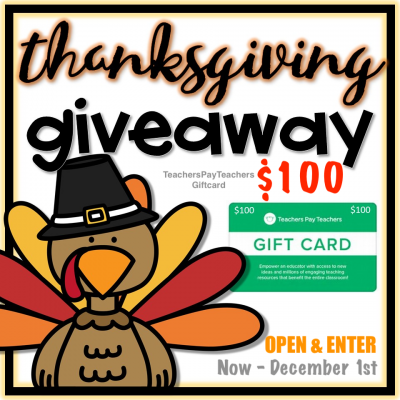 Head over and check out teaching resources from the following TpT teacher authors:
Enter NOW!  Follow the instruction below and ENTER this gift card giveaway!
Do you know?
TpT is an online resource.  Teachers and parents can have access to it with internet.
Educators and parents can download free or paid digital teaching materials from the site.
Teachers pay Teachers (TpT)  was created by New York public school teacher Paul Edelman in 2006.
About 4 M teachers used TpT in 2016.
There are over 2.8 free and paid resources created by educators are available on TpT and growing.
TpT is the go-to place for educators to locate the resources and inspiration they need to teach at their best.
Mission of TpT: "To make the expertise and wisdom of all the teachers in the world available to anyone, anywhere, at any time".
If you are an educator you can join TpT for free today to start creating and sharing your teaching resources!
[Do you know? Statistics resource from Teachers Pay Teachers]