The best way to learn is having fun and hands-on. What would happen to a tomato when it is left behind in the kitchen? Here is a short animation film created by talented ShihChieh Chiu, an animated filmmaker.  His story will take you and your young learners on an adventure.
Here is the word list I have put together for this short animation movie.  Click Quizlet Word List link below and listen to the words/phrases.
Activity:  Watch the video and create the fun with the following steps.
1. This is…  (introduction to words)
2. Show me the actions. (association the words with the objects or action)
3. Listen to the story.
4. Tell  me the story or tell me what you see in your words. (recall)
5. 1-2-3- Action.  Your turn to tell the story.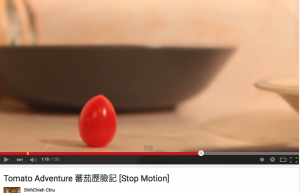 Video Resource:  Courtesy of ShihChieh Chiu 
Love to read more interactive and engaging Chinese teaching resources from Miss Panda? Sign Up for Email Updates:

Save
Save