Paper cutting is a fun project for children.  Younger kids will need some adult assistance.  Here is a simple paper cutting craft I do with children for the Chinese New Year.  It is a 3D cutout of the Chinese character for "spring."  This is a craft that you can use to decorate the house or the classroom.
Paper Cutting Project:  Chinese character 春 = chūn = spring.
What you need

:
1. Colored printing papers: Red is always the best color for the Chinese New Year.
2. A pair of scissors
3. String or ribbon for hanging (optional)
Here are the steps:
1. Click on the printable image below and print it on colored paper.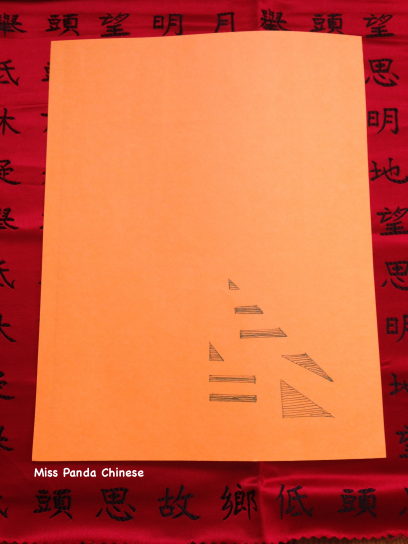 2. Fold two triangles and crease well.  Cut the extra part on top and make the paper a big square.  Then fold the paper in half from the left then from the bottom.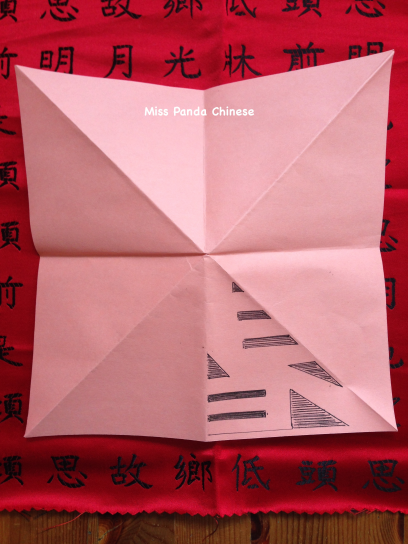 3. Push the left and right sides in and form two big triangles back to back. Then flatten the two triangles with template side up.

4. Fold the triangle in half. (shown in the left). Then cut out the shaded parts (shown on the right).  You can cut tip of the top off and thread a string or ribbon through for hanging.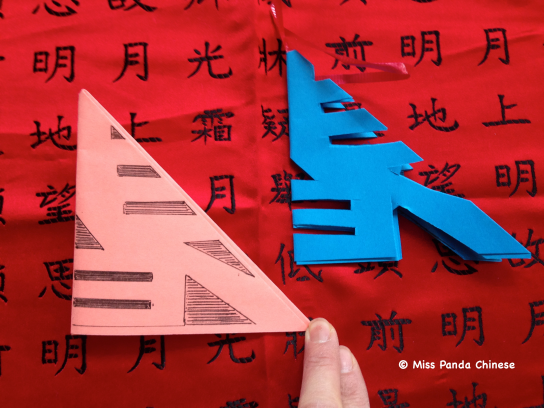 5.  Now open it up and you have the finished project!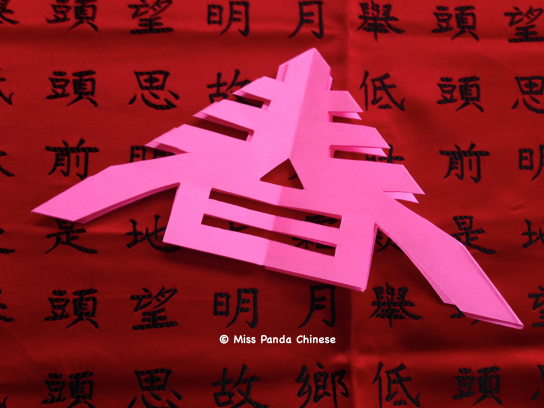 Words and Phrases that you can use while doing this craft:
English – Traditional Chinese characters – Pinyin
spring – 春天 –
chūn

​

tiān

​
spring festival – 春節 – chūn ​jié​
paper cutting – 剪紙 –  jiǎn​ zhǐ​
craft – 勞作 –  láo​ zuò​
paper – 紙 – zhǐ​
color – 顏色 – yán​ sè​
colored paper – 有顏色的紙 – yǒu yán​ sè de zhǐ​
scissors – 剪刀 – jiǎn​ dāo​
to cut – 剪 – jiǎn​
to fold – 折  – zhé​
to open – 打開 – dǎ​ kāi​
—
Culture note that applies to this craft:
© 2014, Amanda Hsiung-Blodgett, Miss Panda Chinese  All Rights reserved.
Here listed below are more Chinese Lunar New Year Culture Resources:

12 Chinese New Year & Culture Books
Chinese New Year Craft and Coloring Pages (Printable)
Chinese New Year Craft – Make a "Fu" Lucky Word Sign (Printable)
Chinese New Year Must-Know Lucky Phrases (Video)
Fun in the Kitchen: Let's Make Chinese Dumplings
A Collection of Chinese New Year Resources from Wonderful Bloggers Around the World