Chinese Culture for Kids Series features Chinese Lucky Word Sign craft – a classic Chinese New Year lucky word sign!
Your Chinese animal birth sign is DOG gǒu 狗 if  the birth years are in
2018, 2006, 1994, 1982, 1970, 1958, 1946, 1934, 1922.
It is a 12-year increment so the ages will  be 0, 12, 24, 36, 48, 60, 72, 84, 96, 108. 
Chinese people might ask about your birth sign and figure out how old you are.  It is a math game!  Try it and have fun!  You will also enjoy reading about Chinese New Year's traditional, taboos, and celebration.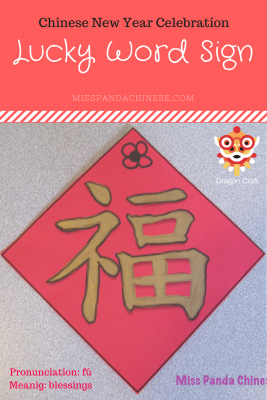 Chinese people put red banners with lucky words, phrases and sentences on their front doors, as well as their interior doors, to welcome the Chinese Lunar New Year.  These red banners and lucky word signs are called "chūn lián" (春聯|春联). The paper for the banners is always red, while the words are in gold or black.  The Chinese regard red as an auspicious color.
Follow along below to see how you can make your own Lucky Word Sign with the character "Fú."  This is the most popular and most auspicious Chinese character that you must know for the Chinese Lunar New Year.
Craft Supplies You Need:  Click on the image below and download this template.
1. Print out the coloring page on a piece of red paper. I always use red stock papers for this class project.
Go creative and try glue with gold glitter – They come out very pretty with a 3D style.
Gold and Silver Gel pens – Use Silver for outline and Gold for filling.  It sure makes the lucky sign look like an art!
We first color the Chinese character with a gold marker.  You can add any design you like in the diamond to be creative. Then we cut out the diamond and your lucky "Fú" word sign is ready!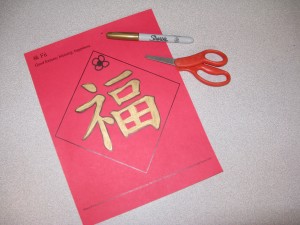 Culture Notes:
The Chinese character Fú 福 means "good fortune", "good luck", and "blessings!"  You will see this character everywhere, even on Red Envelopes.  This is a must-know Chinese character, especially during the Chinese New Year!
Now choose a door and put it up. Wishing you and your family a healthy, happy and wonderful Year of the Dog  狗年- gǒu nían!

Check out Miss Panda's Chinese Lunar New Year Greetings & Crafts Unit with culture highlights for more hands-on language and culture language activities!
Plan a Children's Chinese Lunar New Year Party with Chinese New Year Greetings & Crafts Unit!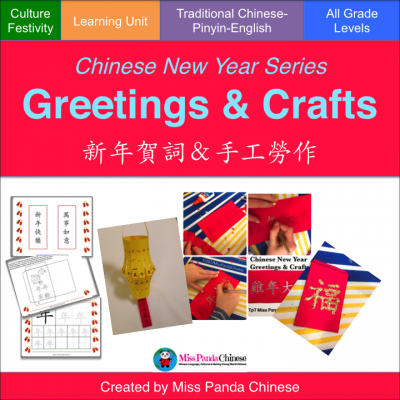 Save
Save
Visit Multicultural Kid Blogs' global bloggers and learn more about Chinese New Year celebration!

Participating Blogs
The Dumpling Mama on Multicultural Kid Blogs
Bicultural Mama
Crafty Moms Share
Miss Panda Chinese
Living Ideas
Creative World of Varya
The Mommy Factor
Save