Chinese people put red banners with lucky words, phrases and sentences on their front doors, as well as their interior doors, to welcome the Chinese Lunar New Year.  These red banners and lucky word signs are called "chūn lián" (春聯). The paper for the banners is always red, while the words are in gold or black.  The Chinese regard red as an auspicious color. 
Follow along below to see how you can make your own Lucky Word Sign with the character "Fú."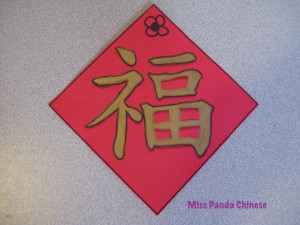 What you need:
1. Print out the coloring page on a piece of red paper.
2. A gold metallic marker (I use a Sharpie).
3. A pair of scissors
We first color the Chinese character with a gold marker.  You can add any design you like in the diamond to be creative. Then we cut out the diamond and your lucky "Fú" word sign is ready!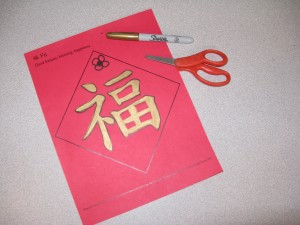 Do you know:
The Chinese character Fú 福 means "good fortune", "good luck", and "blessings!"  You will see this character everywhere, even on Red Envelopes.  This is a must-know Chinese character, especially during the Chinese New Year!
Now choose a door and put it up. Wishing you and your family a healthy, happy and wonderful New Year of the Snake!