Are you ready to carry a lantern soon?  How about hosting a riddle game with the kids on the Lantern Festival?  Traditionally the lantern owners write their riddles on the lanterns.  Now you see the riddles written on the papers and are attached to the lanterns at the festival locations.  I had a Lantern Festival Party with the kids and their friends.  I placed the riddles in red envelopes and I clipped them on a golden string.
Riddle Me Riddle Me Printable:
Here are two sets of riddles.  You can click here for the riddle printable.  I used the first one and the kids enjoyed it very much.  The second one has the riddles that are used in China and Taiwan for Mandarin Chinese native speakers.  It can be used for students who have studied Chinese for a few years. The actual Lantern Festival riddles include puns, classic idioms/quotes, names, places and brainteasers.
How to Play the Riddle Game:
1.  Every child will have a turn or two.
2.  You will start with the first child.  He will choose one envelope by the number, open it, then read the riddle inside.
3. Whoever solves the riddle first will receive a prize.  Then the process repeats.
Theme Words and Phrases to Know:
lantern  – 燈籠 Dēng lóng
to carry a lantern – 提燈籠 Tí dēng lóng
Lantern Festival – 元宵節 Yuán xiāo jié
riddles – 謎語 Mí yǔ
solve the (Lantern Festival) Riddles  – 猜(元宵)燈謎  Cāi (yuán xiāo) dēng mí
answer (n.) – 答案 Dá àn
answer (v.) – 回答 Huí dá
Happy Lantern Festival! 元宵節快樂 Yuán xiāo jié kuài lè
Always keep learning fun, Miss Panda
©2014 Miss Panda Chinese All Rights Reserved.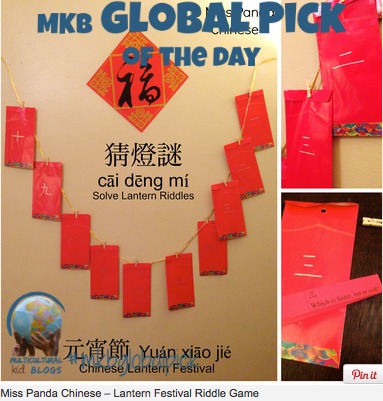 The following two tabs change content below.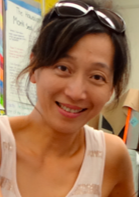 Amanda "Miss Panda" is the founder of Miss Panda Chinese and author of the "Let's Learn Mandarin Chinese with Miss Panda!" CD/MP3 audio program. Amanda is a dynamic language instructor with over 15 years language teaching experience. She created Miss Panda Chinese to share teaching materials that she has developed and used in the classroom and at home with parents and teachers who are also on the exciting bilingual education journey.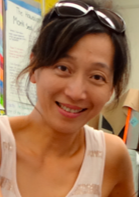 Latest posts by Amanda Hsiung-Blodgett (see all)