May is Asian Pacific American Heritage Month.  I am delighted to see the schools and libraries have shared various resources with children, parents and educators.  When I lived in Hawaii the celebration of heritage culture seems so natural and it seems like it is a part of everyday life.  My kids are one of the many HAPA kids at schools.  "Hapa" is a Hawaiian pidgin word used to describe mixed-race people — primarily, though not exclusively, those who are half white and half Asian."  according to Alex Laughlin  in an NPR article.  It was a wonderful Hawaii experience to see how ethnicity was respected and presented not only in cultural festivities but in daily life.
I was born in Taiwan and my parents are originally from China.  They left China during the war and they settled down in Taiwan.  My father was on his way to college when the civil war broke out.  He could not return home so he kept moving away from the fighting with his friend.  It was a long journey to Taiwan with the war, the inflation, the shortage of food, the bombs, and the worries of the safety of his beloved father.  He never saw his father again.  And I, never met my Grandfather.  It was a tragedy.  It was a difficult time for people on both sides.  Those who were in China and those who were fleeting out of China.
The stories my father told me about his father and the war fascinated me.  When I was little I always wondered how come my friends had many cousins and grandparents from both Mom's and Dad's sides and I only had grandparents, Po Po and Gong Gong, from my Mom's side.  There was something missing…
My fond memory of my Po Po and Gong Gong started from the languages they spoke to me, their sense of humor, and the sweet snack my grandma gave me when I visited them.  My grandparents spoke Hunan dialect and Sizhuan dialect and their neighbors spoke Shanghai dialect, Shandong dialect, and so on.  It was so much fun to hear all the languages even though I did not understand every word they said to me.  They were all trying to learn or speak their new language, that is, Mandarin Chinese.  They all spoke with a unique accent.  The accents were beautiful I thought.  I ran around copying the words that Grandma/Grandpa and their friends said with my young friends in the neighborhood and the adults enjoyed correcting our pronunciation in their own languages.
Children love stories.  I love stories.  I make up stories for my kids and my students and I have Story Time for them in Chinese.  I told a few of my father's stories to my kids and I found out that they were fascinated about it as well.  They had questions.  I did not know all the answers.  So I would talk with my father and get answers.  At the same time, I would remind my children that they need to keep learning Chinese so they can hear the "adventure" stories from their Gong Gong themselves and ask questions on their own in Chinese.  There is always something lost in translation so if they can use my father's native language they will experience more.
In Taiwan, one summer night last year, I saw the kids spending time in Gong Gong and Po Po's room.  I heard my mother laughing and talking.  I heard my father's enthusiastic voice when he told stories.  I heard my son asking questions about the train story that my father told me.  His grammar might not be perfect and the wording might need some polish but it was a good try.  I stood outside by the half-closed bedroom door and smiled.
Language is a connector.  It connects people.  It connects cultural differences.  It connects the world.
For this Asian Pacific American Heritage Month I interviewed my son, who is twelve years old.  I was pleasantly delighted to know that he wanted to share his heritage language learning with other children.  It is a candid interview.  You will hear our chuckle and laughter.  We did not have a rehearsal and he gave his true answers to each question.  It might reveal that there might be a "tiger mom" in me. (Oh NO!  It is definitely not true and not me.  I will say that I am more a "paper tiger mom" 紙老虎.  You know what I mean.)  From my son's answers and you will understand that even though it is hard to learn Chinese at times he enjoys being able to communicate with people in Chinese when there is an opportunity.  The reason why he enjoys it might be very simple but it boosts his motivation in a subtle way.  It takes more than a village to raising a bilingual child!  There is always more to learn and there is always more to improve.  I hope this video can help your child understand that s/he is not the only one on this bilingual/multilingual adventure.  Enjoy!
Interview with My Son on Learning His Heritage Language – Chinese
 Ge Ge mentioned a few things in the conversation and I have pictures for you.
Here is the Chinese Green Onion Pancake that my son keeps mentioning in the interview.
I will have another post on how to make it at home.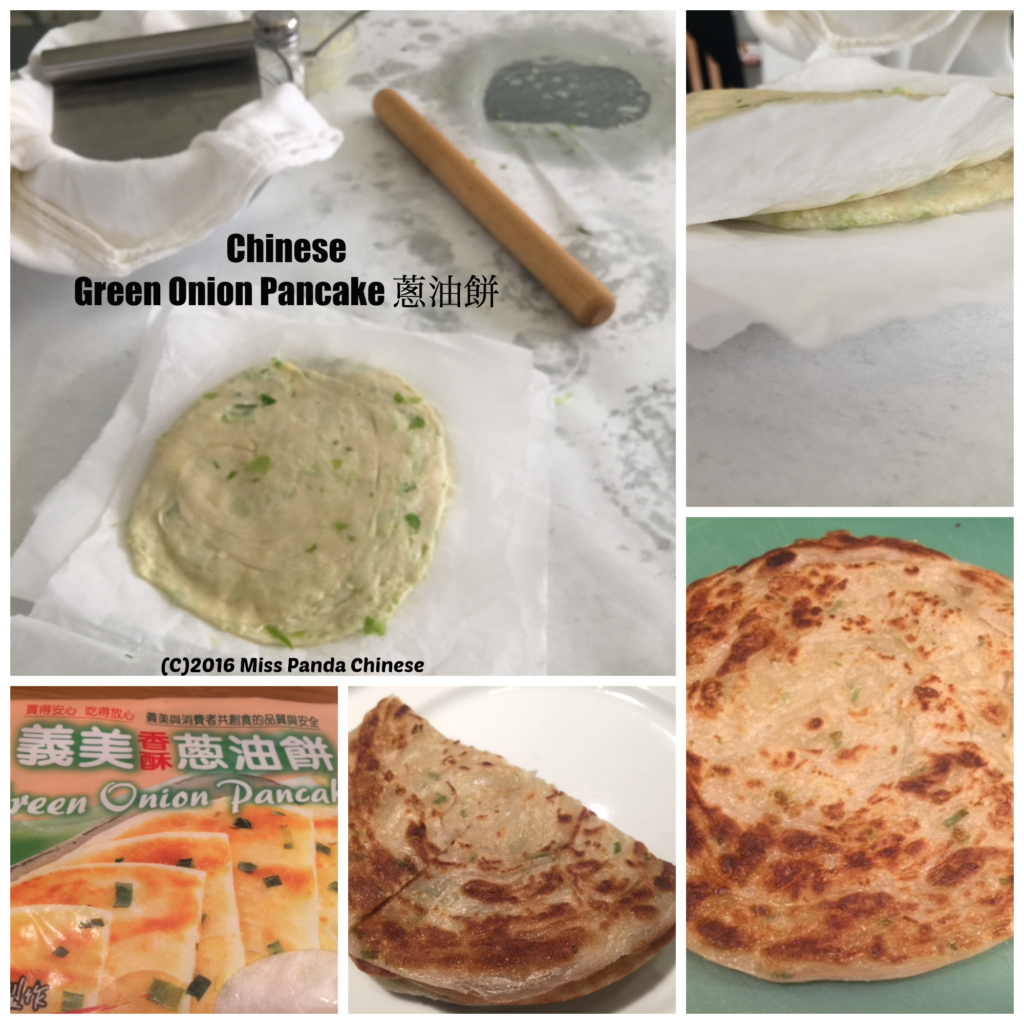 He also mentioned beaches and night markets in Taiwan.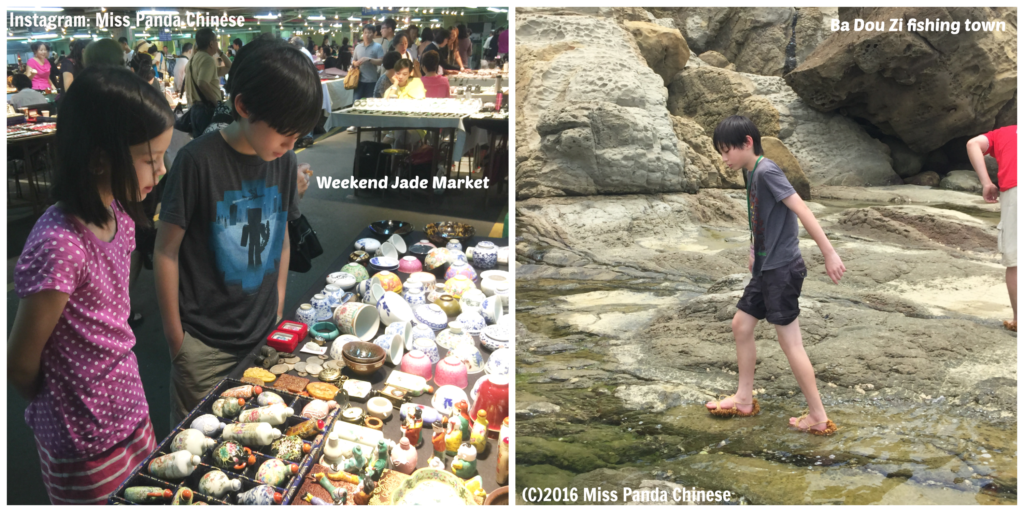 Years later from today, when my son watches this video again
I believe he will realize that his heritage language is a gift I have for him.  And, he can pass it on.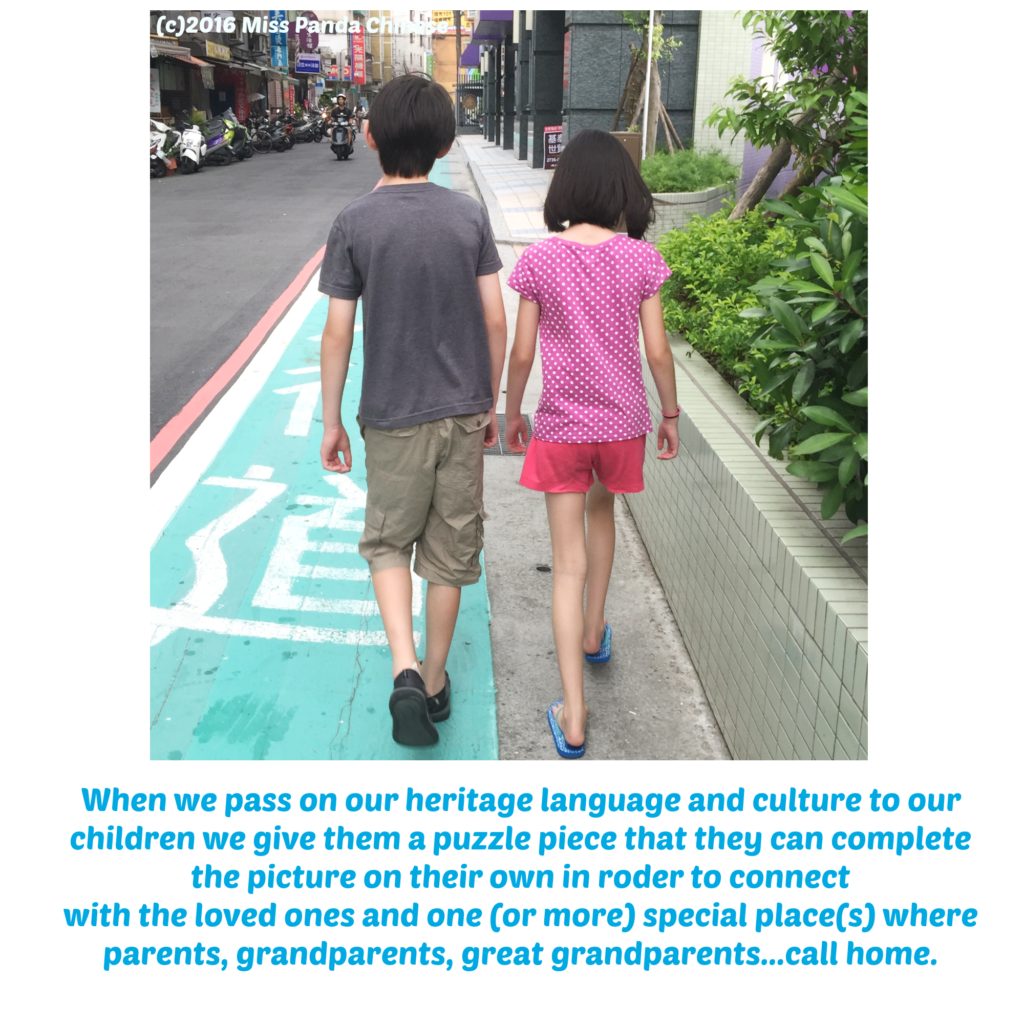 Author: Amanda Chia Chen Hsiung-Blodgett ©2016 Miss Panda Chinese| Chia Chen Hsiung-Hsiung All Rights Reserved.
Welcome to our third annual Asian-Pacific American Heritage Month Blog Series and Giveaway! Follow along all month for ideas about sharing with kids the rich cultures of this vast and varied region. Also, be sure to enter the giveaway below and link up your posts on our main page.
For even more ideas, visit our blog hops from last year and 2014.
May 2
Pint Size Gourmets on Multicultural Kid Blogs
May 3
The Art Curator for Kids
May 6
Creative World of Varya
May 9
Crafty Moms Share
May 12
All Done Monkey
May 13
Colours of Us
May 16
Bicultural Mama
May 17
Wise Owl Factory
May 23
Miss Panda Chinese
May 27
Pack-n-Go Girls on Multicultural Kid Blogs
May 30
Crafty Moms Share
Enter Our Giveaway!
If a winner is drawn who is outside of the shipping area of a particular prize, that prize will revert to the next lower prize package or a new winner will be drawn. See our full giveaway rules.
Grand Prize
From Tuttle Publishing:
Origami Zoo Kit: includes Book, 40 Papers, 95 Stickers, Zoo Map
Beyond the Tiger Mom: East-West Parenting for the Global Age
Lucky Bamboo Book of Crafts: Over 100 projects & ideas celebrating Chinese culture
         From Miss Panda Chinese: Set of three learning units (75 page Chinese Number Unit 0 – 100, 30 page Days of the Week Unit, and 18 page Moon Festival Unit)
From Daria, World Music for Children: Set of pu'ili (Hawaiian rhythm sticks) plus a Make Your Own Pu'ili craft PDF. US Shipping Only
1st Prize
From Tuttle Publishing:
All about Korea: Stories, songs, crafts, and more
Malaysian Children's Favourite Stories
From Whole Wide World Toys: World Village Playset China, includes playmat, book, wooden puzzle figures, and story cards. US Shipping Only
Give good luck wishes with a Dumpling Mama lucky envelope. Envelopes have a card inside to write a personal message. Pack of 5 LUCK envelopes are for birthdays, graduations, and baby showers. Pack of 5 HAPPY envelopes are for weddings, engagement, and bridal showers. US/Canada Shipping Only
From Mikaya Press: Tah Majal, a story of love and empire. US Shipping Only
2nd Prize
From Gestalten Publishing: The Honey Hunter, a modern day South Asian fable that teaches children to respect and appreciate nature.
From Quarto Group:
Journey Around the World, discover with Playmobil the most marvelous places on earth with this fully illustrated travel journal. US Shipping Only
C is for China, stunning photographic book capturing the rhythms of everyday life in China. US Shipping Only
I is for India, From Bollywood to Peacock, from Namaskar to Tea, this photographic alphabet is a celebration of India in all its vast and colourful diversity. US Shipping Only