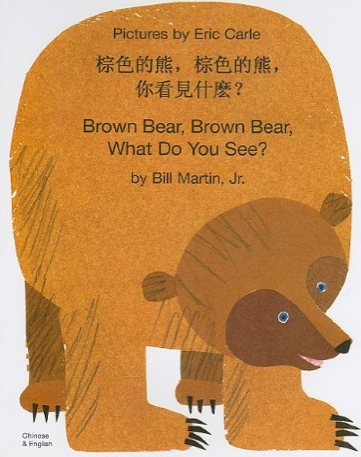 "Brown Bear, Brown Bear, What Do You See?"
by Bill Martin Jr. with illustrations by Eric Carle
Background music:
"Brown Bear, Brown Bear, What Do You See?" by Bill Martin and Eric Carle is a joyful read in any language!  This is a great book for language-learning with its simple story and repetition of words and sentence patterns.  Children can easily review and learn the animal and color words, as well as the three commonly used sentence patterns in the story:
1. What do you see?  – Nǐ zài kàn shé me? – 你在看什麼?
2. I see ________. – Wǒ kàn jiàn ________. – 我看見 ________.
3. ________ is looking at me.  ________ zài kàn wǒ. – ________ 在看我.
With this installment of "Miss Panda's Reading Playground" kids can play the "I Spy" game in Chinese by using the sentence patterns and new words introduced in this book.
Watch, listen and have fun!
If you have a favorite children's book that you would like to read in Mandarin Chinese just send me a message to let me know.
Brown Bear,Brown Bear,What Do You See? (Chinese edition) [Paperback]