Disclaimer: This post was sponsored by App Masters for "Miao Mi" APP.  All opinions are my own.
It is difficult for parents in North America to find quality Chinese language learning resources for their kids," said Todd Miller, CEO of Celestial Tiger Entertainment, a leading media company in Asia that creates and operates popular channels focusing on Asian entertainment, including "Miao Mi." "We created Miao Mi to give parents a wide range of entertaining and educational programs and games to help give their pre-schoolers a head start learning this increasingly vital global language.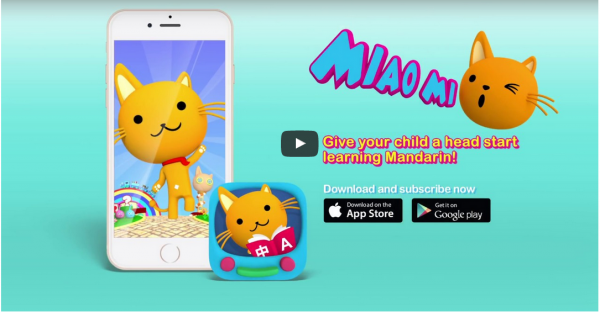 Get ready to experience fun Mandarin Chinese learning with "Miao Mi" app with its WATCH section featuring over 500 child-friendly videos and LEARN section showcasing basic Chinese words, phrases and interactive games.  "Miao Mi" app is bringing authentic materials to Chinese language learning at home or in the classroom.  The programs curated in this app are entertaining and educational for children at preschool ages and up.
This is the edutaining app I wish existed when my children were at the preschool and early elementary school ages.  As a world language-Mandarin Chinese teacher I want to have a variety of learning resources for my children and students.  I especially like authentic materials because they are wonderful for language learning.  Authentic materials are made for native speakers.  The words, phrases, and sentences you hear in this kind of resources are used in real life conversation and communication.  You can see popular children's programs in China for Chinese children in "Miao Mi" App and that carries a cultural perspective on the learning journey.
The shows on "Miao Mi" are developed by leading children's programming producers in Asia, and feature adorable characters and age-appropriate storylines.  Let's look at some of the featured programs in the Watch section of the app.
"Star Babies" is a highly acclaimed animated series inspired by Chinese icons,  Bruce Lee and Monkey King.  This program delivers good virtues concept to children.

"Our Friend Remy Bear" is an award winning animated series that teaches children important life lessons of being kind and sharing.

"Eori" is a Korean animated series that features stories based on Asian folktales.

"Secret Y" is an animated series that introduces scientific knowledge to children.

"Pleasant Goat Fun Class" is an educational series featuring world-famous characters from the Chinese "Pleasant Goat" cartoon series.  This program promotes cognitive and life skills.
Now, let's take a look at the Learn section in the "Miao Mi" app.  Currently, there are currently 5 categories: Greetings, Body Parts, Family, Pets, and Transportation.  You have six to eight animated flashcards of commonly used Chinese words and phrases in each category.  You will see Chinese characters (simplified form), Pinyin and English on each card and you will hear clear Mandarin pronunciation of the term.  Each Chinese words/phrase is repeated four times to enhance language input.
The vocabulary level on the "Miao Mi" app works with what K-2 students in Mandarin immersion programs across the U.S. are learning. The "Miao Mi" app features a child-friendly navigation interface and English/Mandarin Chinese language support.  Parents and children can enjoy learning Mandarin Chinese in a safe, secure and ad-free environment.
The "Miao Mi" app is now available for free download with a 7-day free trial at the App Store for iOS  "Miao Mi" is also available at Amazon Prime Video on Amazon Channels for $5.99 per month.  Join the fun and have a sneak preview of the "Miao Mi" app at  

www.miaomi-tv.com

.
Photos and video courtesy of AppMasters.
Save
Save
Save
Save
Save