Disclosure: Bilingual World Maps -Miss Panda received a sample to evaluate. All opinions are my own.
Creating a literacy-rich environment is important for a bilingual home and a world language classroom.  Pictureta makes it easy for you to decorate your home or your classroom with bilingual world maps and décor.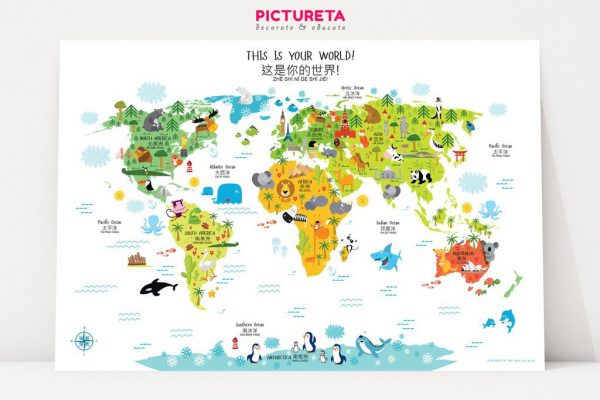 When you blend decorate & educate together you see a product line that is playful and vibrant.  Pictureta helps parents inspire children to learn about our amazing world and languages with bilingual world maps, wall décor for nurseries and playrooms.  Its Unique Interactive Travel Map of the World lets children track their travels and learn beyond countries, capitals, and landmarks.  Children will explore different country's experiences, foods, languages, natural resources, and animals through detailed modern world map illustrations.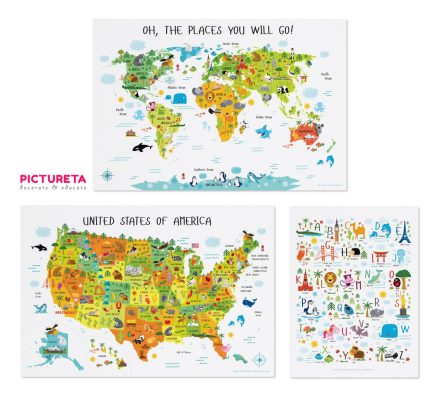 This holiday season Pictureta is offering a 15% promo discount to Miss Panda's readers.  Explore their children's map collection.  You can choose from the world map, USA map, Canada map, Australia map, travel map to alphabets printed as posters of canvases and more.  Enter promo code "
MISSPANDA15

" at check out to receive the discount.

Email Sign Up code –
Love to read more interactive and engaging Chinese teaching resources from Miss Panda? Sign Up for Email Updates:


The story behind Pictureta is a bilingual parent who is raising a bilingual child.  Katya, CEO of Pictureta, began this journey when she was expecting her first child.  As she was searching for educational and modern décor to her son's room and could not find any she decided to design her own.
As a bilingual community here at Miss Panda Chinese, I asked Katya a few questions about her family bilingual experience.
Question:  What is your top tip for raising a bilingual child in an English-speaking community.
Katya:  Children are little sponges, curious about the world around them and exploring new things every day.  This curiosity is an incredible thing and gives parents and other caregivers many opportunities to raise a culturally aware new generation.  All parents should encourage this curiosity and expose children to different cultures by building a bilingual colorful library and reading stories in a different language.  Also, listening to music from around the world and decorating their room with posters and artwork using both languages.  Another good approach is to have one parent speak to the child only in English and second parent or caregiver the other language that is used in the family.
Question: What is one challenge of bilingual parenting for you?  How do you keep it up and make it work for you and your child? 
Katya: 

The most challenging part of bilingual parenting is not having child mix both languages together when speaking.  With our toddler son, for now, we decided to speak only Russian language until he builds up his vocabulary while having a separate daily English lesson.
Katya also shares with us a couple of her favorite quotes.  She said, "I love this quote, not sure who wrote it, – "Wisdom…comes not from age, but from education, trying and learning."   And the other one is…
"Education is not the learning of facts, but the training of the mind to think." – Albert Einstein
Thank you, Katya, for your gift and sharing your bilingual parenting tips with us.  Explore Pictureta's world map collection and décor products at their website, Instagram, and Facebook.
Explore More Stories in the Bilingual Parenting Series