What is your favorite app?  Why do you like it?  Do you use any apps to learn something new?  My boy likes to play games and read books on his device.  My girl likes to draw and listen to stories on hers.  I like to listen to music, read recipes, and play the language-learning apps on mine.  The mobile devices have become a part of our learning in or out of our home or the classroom.  I like the flexibility and the variety that the apps have and I would like to share with you 5 Chinese learning apps that are educational and entertaining for children.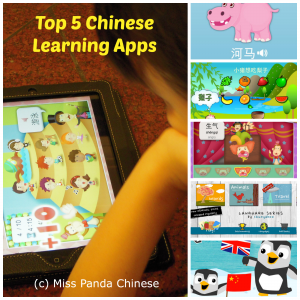 The apps that I list here are the ones designed for children who are learning Mandarin Chinese as a Second Language and ages at 5+.  Lingu Pinguin, Chinese Flashcards and Chungaboo are interactive flashcards that teach words.  Piggy Picnic and Rick & Jackie are games that teach words, phrases and basic sentences.
Lingu Pinguin (Mandarin Chinese) – It is an interactive English-Chinese picture dictionary with audio.  The vocabulary themes are animals, transportation, food, face & body, farm, toys, nature, clothes, and house.  There is a quiz section for review. Pronunciation: standard Mandarin Chinese.  Audio options: English and Mandarin Chinese.  There is one pronunciation of one character can be noted in this set that is "penguin" in Mandarin Chinese.  It is read as Qǐ é – Qǐ  (3) – 3rd tone and it can also be read as  Qì é. Qi(4) – 4th tone.
Chinese Flashcards (Mandarin Chinese & multilingual) by INKids (Animal set/Mandarin Chinese version) – This is a flashcard app with very nice illustration for young children.  I like that the Chinese characters are included in each card.  It is important that you select "Mandarin Chinese" in the language setting to hear the correct pronunciation.  Audio options: English, Mandarin Chinese, and Cantonese.
Chungaboo – Language Series (Multilingual including Mandarin Chinese/Words set) – This is a multilingual app for kids including Mandarin Chinese. It is a beautiful and entertaining set.  Touch the pictures and see what happens.  When you select Chinese in language setting you will see Pinyin (pronunciation guide) with tone marks on each card.  This set has 20 interactive cards.  Audio: Mandarin Chinese, English, French, German, Italian, or Spanish.
Go beyond words and learn some basic sentences
Piggy Picnic  – This app uses immersion approach. You can select English in setting to understand the questions when needed.  Teaching Chinese as a second language approach.
Rick & Jacky  – This is an entertaining and educational app. This app introduces words and basic sentence patterns.  Teaching Chinese as a second language approach.
The best way to use the apps:

1. Play with the app yourself first.
2. Play with the app with your child together.
3. Select 3 to 5 words that you have learned, write them down and use them in the next 24 hours with your child.
4. Break down each unit into short sessions according to your need so it is not overwhelming with all the new words.
5. Put down the device, go out and use the words, phrases, and sentences that you have learned in real life!  Have fun!
Multimedia Learning Resource:
 *This is an independent review and in order to maintain its independence and impartiality, Miss Panda Chinese buys and tests the apps it evaluates.*
If you enjoy this post share it via Facebook, Twitter, Pinterest and social media you use!  See you next time!  ~ Miss Panda
(c)2013, Miss Panda Chinese