Happy Father's Day!  How do you celebrate this special day in your family?
Here are two Father's Day Printable pages and a set of puzzles for the kids to play and create their own decoration.
There are two sets in each printable.  The first set is in traditional Chinese characters, pinyin and English.  The second set is in simplified Chinese characters, pinyin and English.  I include both traditional and simplified characters in the Phrase Box so you can be familiar with both versions.  Puzzle sets will work best if you print on stock paper.
For coloring printables just click on the image to download the pages.  The puzzle sets are fun to play with and it will reinforce three high frequency words: dad, I, love.
Download and print out all of the pages.  Play and create!  Listen to the audio track and follow along!
There are three short video clips for more learning fun:
(1) How to say Dad in Chinese and how to write the Chinese character, Dad;
(2) The meaning of family, 家 jia for Chinese;
(3) Music video of You are the Sun, I am the Star by a father and a daughter.
Now color the Chinese characters.  Color and decorate the tie.  Learn the phrases in Chinese and teach Dad and everyone in your family how to say them!
 Tie: Click here for Simplified characters version.
Color the Chinese characters, color and decorate the shirt with Dad.  Be as creative as you can.  Is it a shirt that Dad can wear to work or to a party.  Make sure you teach Dad some the phrases in Chinese included in this fun sheet.

Shirt: Click here for simplified character version.
Puzzle Set Printable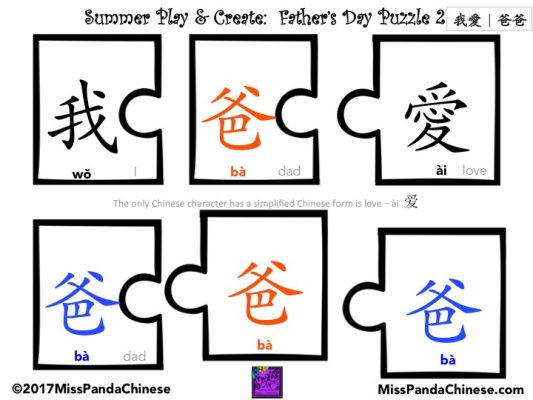 Puzzle Sets include: Chinese only version.  Traditional Chinese with pinyin and English version. Simplified Chinese with pinyin and English version.
Video:
How to say Dad in Chinese and how to write the word Dad in Chinese with stroke order.

Chinese character for Family and the meaning in Chinese: 家 Jia = family; home.

 This post contains afflicate links thank you for your support!
Book Pick – Red Kite, Blue Kite by Ji-Li Jiang
The author based on her childhood survival of China's Cultural Revolution tells a moving picture-book story of a child in the harsh times. Tai Shan loves flying kites and it is used as secret signals between the boy and his father. (Gr. 1-3).
Music Video: A Song for Father's Day –
You are the Sun, I am the Star. Sung by a Dad and his daughter, Xiǎo Chòu Chòu.

Image Credit: Printable graphic images courtesy of MyCuteGraphics.
 Happy Father's Day!  父親節快樂 [父亲节快乐] – Fù qīn jié kuài lè
Culture Note:
父親 [父亲] = Fù qīn – father, a formal title for fathers.
爸爸 = Bà ba – dad, a commonly used expression among children and adult to call their Dad.
Do you know:
Father's day is on August 8 in Taiwan.  Why?  It is because the pronunciation of number "8"= "bā" in Mandarin Chinese sounds like "Bà" = Dad.  They only have different tones.  August 8th is "bā yuè bā rì," and people would say "bā bā" – eight/eight and it sounds like "Bà ba" – dad.  So it becomes the day for Dads in Taiwan, The Republic of China!

Save
Save
Save
Save