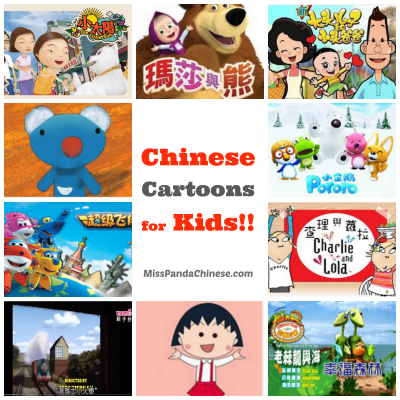 So many readers shared my recent post of  "Teaching Your Kids Chinese: The Ultimate Guide to Start With" post.  Many also asked for extended resource of Chinese cartoons for kids.  There are native Chinese-speaking parents and world language educators who want to use Chinese cartoons to supplement the learning and to engage kids in fun conversation.  There are also parents who are hoping to expose their children to Chinese language through entertaining cartoons.  I have curated Chinese cartoons that my kids and my students enjoyed.  There are the ones originated from China, Taiwan, and there are international cartoons that are dubbed in Mandarin Chinese.  You can preview each of the Chinese cartoons on YouTube.
This post may contain affiliate links.  Thank you for your support.
Big Ear TuTu is Chinese cartoon series designed for preschoolers.  TuTu, the curious and energetic young boy with great imagination is the leading character of the program.  He has been asking questions just like all the curious young kids and his parents have been giving opportunities to learn and keep the curiosity growing.  It is a show produced in China.
Peppa Pig is a British animation series for preschooler children.  This program has been dubbed in Mandarin Chinese and is popular in China, Taiwan, and Chinese-speaking communities.  Peppa and her family as well as friends are the main characters of the show.  You will find everyday activity themes in each episode and the length of the show is short and sweet at five minutes mark.  Peppa Pig books in Chinese are available on Amazon and they are a good choice for your home library.
Pororo the Little Penguin features adventures of Pororo and his friends and how they learn practical lessons to solve the challenges they face.  This is a Korean cartoon dubbed in Mandarin Chinese.  You might want to check out Finding Nimo movie Chinese edition.
Bob the Builder is a British children.  Bob and his team construct, repair, and create new projects in each episode.  Its hand-on approach inspires young children.  Now, you can hear "Can we fix it?" – Bob's catchphrase in Mandarin Chinese.  You can find Bob the Builder DVD Chinese edition here.
Teletubbies is a British children's television program dubbed in Mandarin Chinese.  This show is designed to appeal to kids in preschool.  You can enjoy the show with the Teletunies bilingual English and simplified Chinese activity book.
Thomas & Friends is also a British Children's television show that is dubbed in Mandarin Chinese.  This program  is poplar among Chinese-speaking children.  You can find Thomas & Friends Chinese edition DVDs on amazon.
Penelope, an energetic and inquisitive koala takes you on the adventure of her daily life.  This show is dubbed in Mandarin Chinese and is designed for children in the preschool to kindergarten ages.  The story and illustration are by Georg Hallensleben and Anne Gutman who live in Paris and are stars of children's literature.
Masha and the Bear is a Russian animated television series.  This animation is also dubbed in Mandarin Chinese and is enjoyed by young children in Asia.  This program features the adventure of Masha, her Dad and a bear.  This is a cute show for kids at kindergarten age and up.  You can find a Masha and the Bear playset to go with this program.
Super Wings is an animation series co-produced by South Korea, China, and United States!  Its Mandarin Chinese version is enjoyed by Chinese children.   This program with its multilingual and multicultural team work is taking the kids around the world with its main character, Jett who delivers packages to children around the world.  Grand Albert is another character worth mentioning.  He is a retired male orange bi-plane with a front propeller and gives  gives moral advice to Jett.  This is a program designed for preschoolers and older kids.  You can find Super Wings stickers collection to go with this fun show.
Big Head Son & Small Head Dad is a Chinese animation series follow the journey of the Big Head Son, the young boy who is the physical feature of the leading character in the show.  Why the name "Big Head"?  It is a physical feature and it also implies "bright" and "smart."  Big Head Son & Small Head Dad books in Chinese are a resource to go with this Chinese cartoons for Kids series.
The Cat in the Hat is based on Dr. Seuss children's boo of the same name and is an American animated television series dubbed in Mandarin Chinese.  Literacy resource available is Dr. Seuss's book collection in Chinese.
Dinosaur Train is an international – American, Canadian, and Singaporean creation dubbed in Chinese for children.  This animation features Buddy, a curious Tyrannosaurus rex and his family.  They explore from prehistoric world with all kinds of dinosaurs and beyond with the Dinosaur Train.  This is an excellent CGI animation series that can inspire young dinosaur lovers.  Your young explorer will also enjoy the Dinosaur Train coloring book resource!
Charlie and Lola are based on a series of picture books by the English writer and illustrator Lauren Child.  This is an animation for children dubbed in Mandarin Chinese.   The main characters in this program are Lola, an energetic and imaginative sister and Charlie, a patient and kind older brother who is always ready to help his young sister, Lola.  This is a program for kindergarten children and above.  The Charlie and Lola books Chinese edition are a good resource for reading.
Doraemonドラえもん is a Japanese cartoon series dubbed in Mandarin Chinese.  This program features the stories about a robotic cat names Doraemon who helps a tween boy in day to day home and school life.  This program is suitable for tween and teens.  Doraemon books in bilingual English-Chinese edition are available for leisure reading.

Doraemon
Bonus!
Fruity Ice Cream is a Taiwan Public Television created and produced Chinese program for young children.  This children's series is hosted by Fruit Grandmother, and two banana puppets as well as their friends.  This is a well-beloved show by children in Taiwan and Asia and it delivers theme life lessons and problem solving skills in each episode.  For a beginner level immersion approach program – Little Pim [Chinese edition] DVDs  is an option.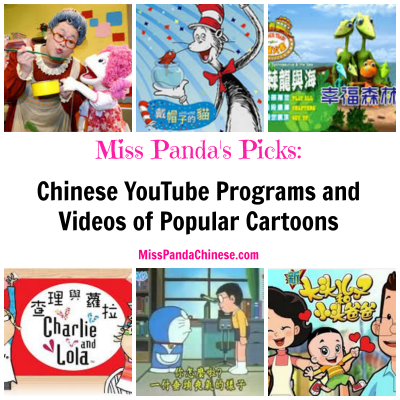 Congratulations!  You read it all the way here and have all the resource that you can pick and choose from for your child.  What do you want to do with this list of Chinese cartoons for kids?
Mini homework for you:  This is a baby step that you can do right away and it will help you plan for your bilingual routine for the summer.   Pick ONE program on the Chinese cartoon for Kids list in this post today.  Preview it for TWO minutes.  Watch the first minute of the show that you pick for 3 times (3 minutes) with your child tomorrow.
Remember:  Short and sweet work magic.  When screen time is over, the Chinese language input still goes on.
Note:

  If you are a non-native speaking parent and you find the content of the show is hard to understand for your child then this resource can be saved for later use.  Please leave a comment or email me at amanda(at)MissPandaChinese(dot)com and let me know.  I will have a separate recommendation for you.
Enjoy this post?  Then SHARE this with your friends and on social media!  Your word of mouth is the best support to Miss Panda!
Save
Save