Here are fun Halloween words and phrases for you!  Let's match the words to the pictures.  Read the words/phrases on the Fun Page first.  If you need some help the hints are below in English, Pinyin and Chinese characters.  Print, read aloud, and have fun!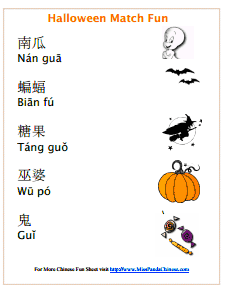 Hints:
pumpkin – Nán guā 南瓜
bat – Biān fú 蝙蝠
candy – Táng guǒ 糖果
witch – Wū pó 巫婆
ghost – Guǐ 鬼
Halloween Related Post & Resource:
Halloween Bingo in Chinese, pinyin and English – Miss Panda Chinese Fun Sheet
The 13 scariest pieces of classical music for Halloween (PG)
If you enjoy this post share it via Facebook, Twitter, Pinterest and social media you use!  See you next time!
Thank you! Xie Xie!  ~ Miss Panda
The following two tabs change content below.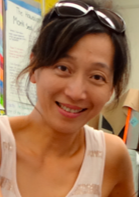 Amanda "Miss Panda" is the founder of the Miss Panda Chinese and author of "Let's Learn Mandarin Chinese with Miss Panda!". Amanda is a dynamic language instructor and a Family Language Coach. She gives presentations for students and teachers on Chinese culture and language.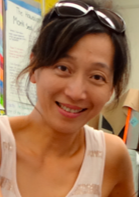 Latest posts by Amanda Hsiung-Blodgett (see all)